Happy Halloween, everyone!
Along with my favorite time of the year, I'm revealing my second author-illustrator book: WOLFGANG IN THE MEADOW.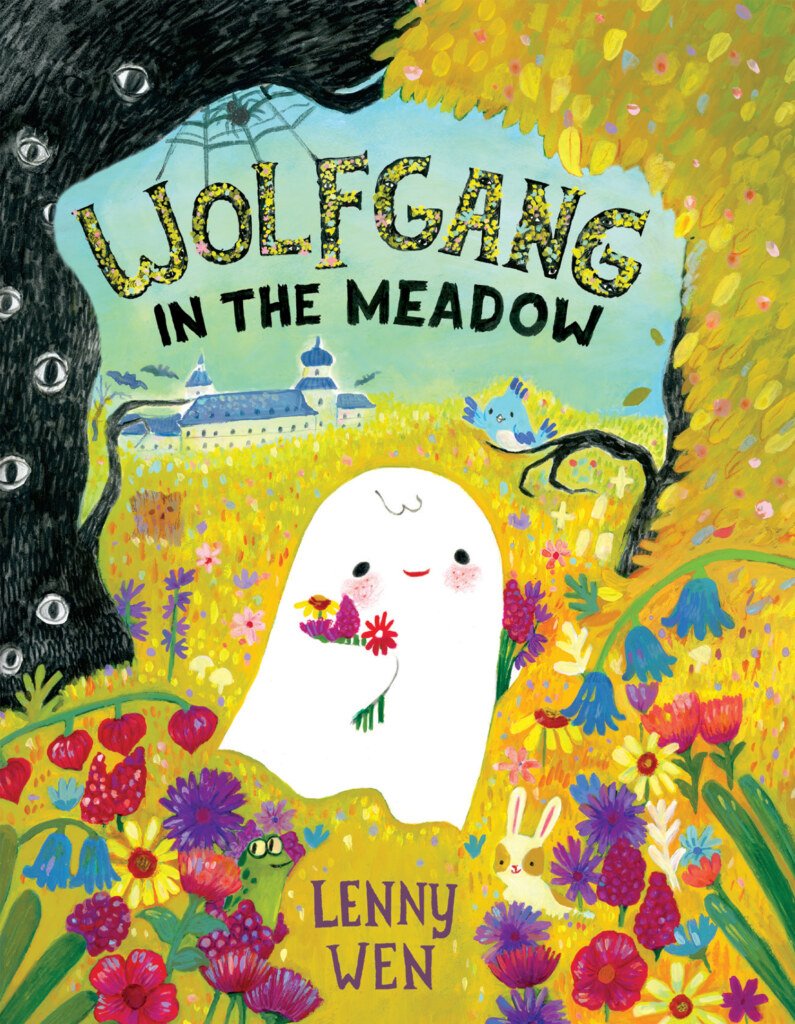 Everything in the meadow, from hugging the trees to stargazing with friends, fills Wolfgang with joy. His ambition, though, is to become the great spirit of the Dark Castle. So Wolfgang strives to perfect his spooking skills, practicing day and night. When Wolfgang wins the honor of haunting the shadowy halls, he is very good at it…but if being a great spirit means leaving his beloved meadow behind, is it good for him?
Some backstories
It's not a secret that I love spooky things and picture books about ghosts. But this line, which popped up in my mind during my burnout in 2021, "A ghost is just tired of being a ghost," was the primary inspiration for this story. During that time, I was in a state of limbo. My burnout became intertwined with my imposter syndrome, my chronic migraine, and, along with them, my depression. At some point, I became mute and lost my energy to do simple tasks like standing up from the bed.
In August, I wrote the initial draft. It was about a tired ghost taking a vacation after his burnout. I know, it was so cliché. Luckily, I have incredibly talented peers, such as Li Xin, Fanny Liem, Lisa Fields, Betty Tang, Jaclyn Sinquett, and Savannah Allen, who gave me valuable feedback and encouragement.
I honestly didn't have a direction where I would like to bring this story until Christy (my brilliant agent) asked us to do a "dream project" promo for the fall. This gave me a concrete goal, and I created this mock cover. The rest was history.
Some Process
I had the ambitious idea to combine graphite and acrylic gouache. I'm sure plenty of artists have done that, but it's my first time. These two mediums represent Wolfgang. Dark yet colorful. I wanted the book to take the readers from spring to fall. Unfortunately, these two mediums weren't the most natural combination. I was struggling to make the combination cohesive throughout the book. My strategy was to introduce more and more graphite until the climax and tone it down again towards the end. But eventually, it worked in the end. Here are some photos from the process.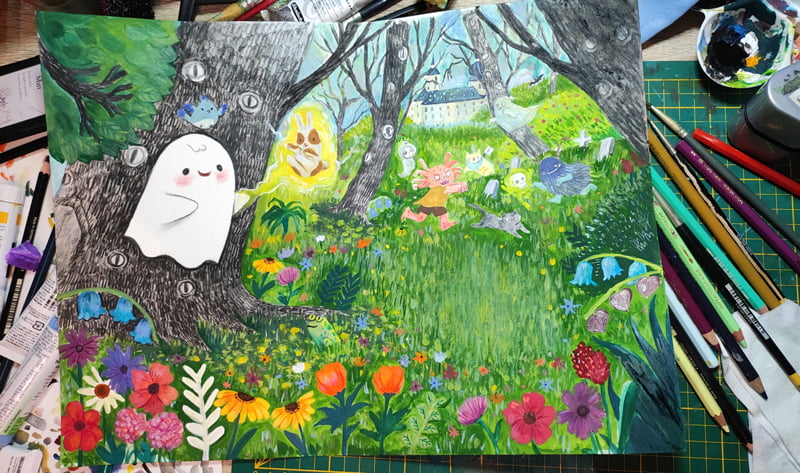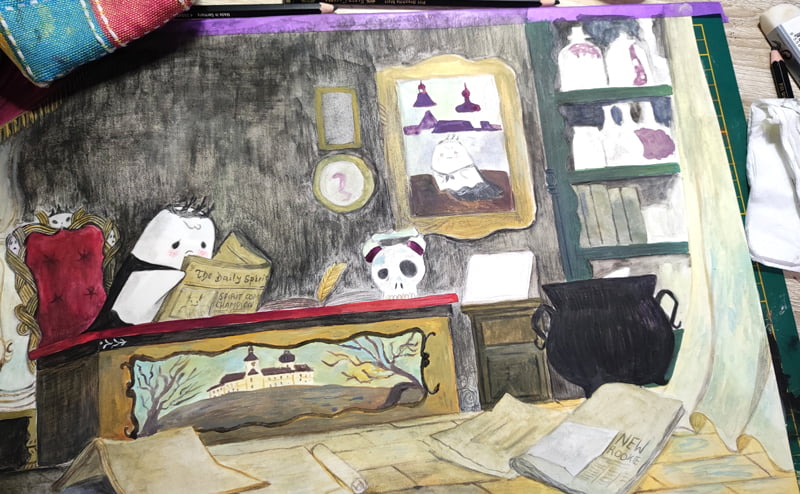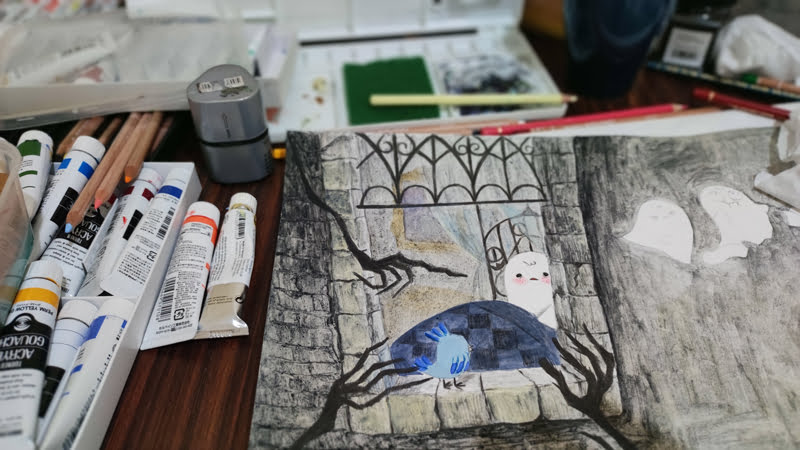 Some Conclusions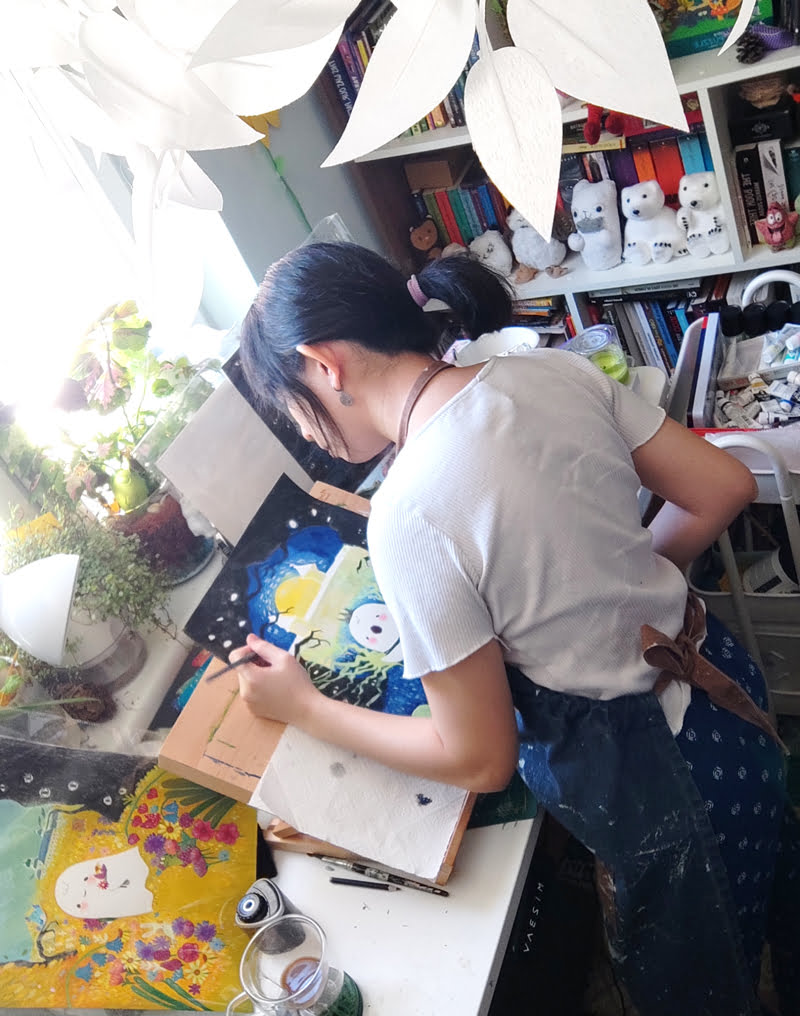 All the books that I either illustrated or wrote/illustrated are special to me, but this story, this character, is ultra special to me. I put all the things I love in this book, both cute and spooky, both dead and alive, both humorous and mellow, and both colorful and monotone. During the process, I learned much about myself as a writer, illustrator, and person. I owe a lot to the wonderful people in the publishing who supported me in creating this book. From my talented peers, brilliant agent, amazing editor Kait Lee Feldmann and three talented designers: Whitney Leader Picone, Phil Caminiti, and Honee Jang. Also, to the temporary editor when Kait was on her sabbatical Anne Hoppe.
I really hope people will enjoy this book as much as I do!
It's available for pre-order and will be available wherever books are sold on July 16, 2024.